Happy Wednesday..... or Monday if you're me, womp womp.
It's a nasty day where I live, and it's going to be perfect for being lazy and napping until time to go to work. I'd rather it be nasty when I'm working anyways, I hate missing out on pretty days, especially since it will be 90+ degrees out before I know it.
So, in Wednesday tradition, it's time to like up with my gals Erin and Alex for Weigh in Wednesday!!
I was a good girl and managed not to step on the scale since last Wednesday, even though I wanted to soooo bad I thought I was going to die.
So after last week's sad little loss, I buckled down and did what I knew to do..... AFTER I pigged out on Buffalo Wild Wings, which I have wanted everyday since. I logged everything into MFP and stayed in my calories, drank water like it was going out of style, and hit the gym for at least an hour 6 out of the 7 days. I tried several different classes and did an arm and leg routine that I found on Pinterest. I felt amazing all week. I am loving the new gym and actually look forward to going, unlike the 30DS which was a chore and I hate EVERY second of it. Sorry I'm not sorry, Jillian. The only thing I regret is that I didn't get a run in this week, but I will start working them in again soon.
I know,
hurry up and get to the results already, I have 952 other weigh ins to read
!!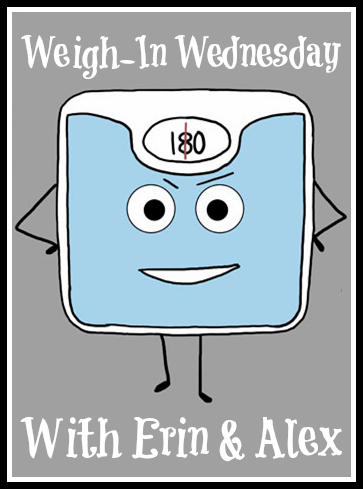 So I came it with a 3.2lb loss this week and I am PUMPED!! I am right at 55lbs down total and made my way into a new weight decade! Definitely a good week, and worth all that it took to get there! This week will be more of the same, with today being my off day.
I know I am being totally lazy with the pictures as of late, therefore making my posts boring, but I am sooo lazy right now... I can't miss out on storm sleeps! I will get a photo post up this week and you can see them all on Instagram @jenlynn426. I'll do a photo dump later this week or weekend!
Enjoy your day lovies!!